... The best quality ingredients cooked as simply as possible
Rocksalt's ethos hasn't changed since the doors first opened in 2011.
A Beautiful Space
With stunning views over the harbour and out into the English Channel, we have created an informal yet smart dining space as well as a stylish bar to while away the afternoon, or party in the evening. When designing the building we had a very clear vision of what we wanted Rocksalt to become, and that was an environment to suit everyone's needs.
Quality & Provenance...
Rocksalt serves the freshest fish possible caught from local day boats throughout the year, as well as the best quality meat bred in the surrounding countryside and marshlands. We want to become an integral part of our environment, so we do our very best to source everything as locally as we can. We are a proud Kentish restaurant and we are surrounded with an abundance of amazing produce well worth celebrating. Quality, locality, sustainability and provenance are words which really mean something to us at Rocksalt and we do our very best to uphold these values. Our aim is to build an outstanding reputation, become a great local restaurant for local people and carve out a place within Folkestone's heritage.
Discover Folkestone
Change is in the air in Folkestone, especially around the harbour which is currently undergoing a regeneration project like nothing else on the South Coast of Kent. Huge strides have been made over the last 2 years with the restoration and opening of The Harbour Arm, a completely unique promenade stretching from the old railway station, which used to serve the working port, out to Folkestone Lighthouse. The walkway is lined with interesting restaurants, bars and pop up street food stalls to keep you fed and watered whilst taking in the 360 degree views back along the White Cliffs and out to sea.
Heading back inland you'll find The Old High Street and Creative Quarter leading up to the main town centre. A hub for all things creative, visitors can meander up the cobbled street, pop in and out of the various art galleries, workshops, cafes and creative spaces, with something to interest everyone.
... And Further Afield
Folkestone also possesses fabulous links across Kent and up to London with the High Speed train taking only 55 minutes between Folkestone Central and London St Pancras International station, perfect for a day trip up to the big smoke - or, if you are coming the other way, a sunny day down by the sea.
Plan Your Visit
Check our opening hours below. We keep a number of tables available for walk-ins, alternatively you can book a table online or by calling 01303 212070.
Rocksalt also boasts a wide range of private dining options and menus, please visit the private hire section for more information.
BOOK A TABLE
For bookings of parties greater than 6 please call us on 01303 212070, otherwise, use the form below to book a restaurant table online. We accept parties of up to 10 people on weekdays and up to 8 on weekends.
We cater for all dietary requirements, please let us know when you book.
Other Rocksalt Booking Options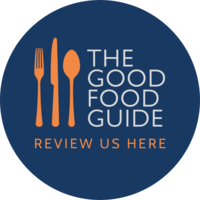 The Good Food Guide
The Good Food Guide was founded by Raymond Postgate in 1951 and today it remains the longest-standing and best selling guide to dining out in Great Britain. The Good Food Guide receives reports from members of the public throughout the year, and it's your list of recommendations that creates the long-list for possible inclusion.
We'd be delighted for diners at Rocksalt to take a few minutes to review us and share their dining experience with the Good Food Guide. It's free to do so and only takes a couple of minutes.
Leave a review
Find Us
4-5 Fishmarket, Folkestone, Kent CT19 6AA
Nearest Train Station: Folkestone Central
Get in Touch
General Enquiries
To Make a Reservation
Press & Media Enquiries