A relaxing seaside stay
Our Rocksalt rooms are the perfect way to end your meal with us, or indeed start your lunch.
Begin your day the right way!
We have four boutique bolt holes, each with their own personality and dressed with Egyptian cotton, original antique beds, flat screen televisions and wet rooms. The rooms are situated a short walk from Rocksalt, two of which are complete with stunning views over the harbour and out to sea.
Folkestone harbour is still a fully working fishing harbour, something we feel adds to the whole experience, and while we do our utmost to ensure the maximum level of comfort for our guests we cannot completely rule out occasional disturbance from the sounds and smells that go hand in hand with this. All four guest rooms have been designed with the restaurant in mind and contain everything you need for an indulgent overnight stay.
Explore our rooms
Breakfast
A complimentary Rocksalt breakfast is included with your room booking,
served between 9:30 - 10:30am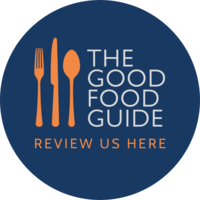 The Good Food Guide
The Good Food Guide was founded by Raymond Postgate in 1951 and today it remains the longest-standing and best selling guide to dining out in Great Britain. The Good Food Guide receives reports from members of the public throughout the year, and it's your list of recommendations that creates the long-list for possible inclusion.
We'd be delighted for diners at Rocksalt to take a few minutes to review us and share their dining experience with the Good Food Guide. It's free to do so and only takes a couple of minutes.
Leave a review
Find Us
4-5 Fishmarket, Folkestone, Kent CT19 6AA
Nearest Train Station: Folkestone Central
Get in Touch
General Enquiries
To Make a Reservation
Press & Media Enquiries