Rocksalt Bar, the top deck, has fast become a destination in its own right...
sharing the same unrivaled views out to sea and sun-soaked terraces as the restaurant below, it is a space to suit all tastes and a perfect place to begin and end your dining experience - or simply while away the day grazing from both the food and drink offerings.
Clear quality & creativity
Our passion for great produce shown in our food menus is continued into the drink offering, instilling the same focus on quality and creativity through our extensive drinks list, whether it be bespoke cocktails, artisan beers, unique spirits or fine wines, all are carefully sourced from right on our doorstep to far flung shores.
An innovative, seasonal selection
The team behind the bar are constantly creating and conjuring new and exciting cocktails, borne out of a spirit selection like no other in the area and changing regularly with the seasons. Rocksalt boasts an eclectic wine list, jam packed with wines that sit harmoniously alongside the dishes leaving the kitchen, perfectly blending our love of old world classics with forward thinking New World producers.
Please note that tracksuits and beachwear are not permitted in the bar area.
Don't Miss!
Rocksalt Happy Hour
Order a drink or two, take in the views and take advantage of 25% off a selection of drinks every Friday evening.

Every Friday | 5pm - 7pm
25% off

a selection of drinks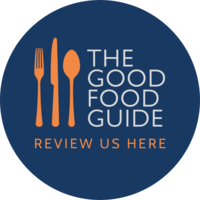 The Good Food Guide
The Good Food Guide was founded by Raymond Postgate in 1951 and today it remains the longest-standing and best selling guide to dining out in Great Britain. The Good Food Guide receives reports from members of the public throughout the year, and it's your list of recommendations that creates the long-list for possible inclusion.
We'd be delighted for diners at Rocksalt to take a few minutes to review us and share their dining experience with the Good Food Guide. It's free to do so and only takes a couple of minutes.
Leave a review
Find Us
4-5 Fishmarket, Folkestone, Kent CT19 6AA
Nearest Train Station: Folkestone Central
Get in Touch
General Enquiries
To Make a Reservation
Press & Media Enquiries