Rocksalt Garden
Discover a tranquil outdoor space on Folkestone's iconic & historic viaduct.
A Spot To Enjoy The Autumn Sun
Our BBQ dining experience for 2023 has now come to an end. Through Autumn/Winter the Garden will be operated as an extension of the Bar area serving our Bar Menu and drinks, open on a weather dependent basis.
Folkestone's iconic & historic viaduct
Rocksalt's existing bar and Rocksalt Garden both connect directly onto the viaduct, linking us to the harbour arm and beach area beyond – the ideal destination spot to start or end your day.
Please note, dogs are permitted in Rocksalt Garden but unfortunately not in the main restaurant or bar/terrace areas.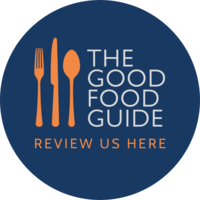 The Good Food Guide
The Good Food Guide was founded by Raymond Postgate in 1951 and today it remains the longest-standing and best selling guide to dining out in Great Britain. The Good Food Guide receives reports from members of the public throughout the year, and it's your list of recommendations that creates the long-list for possible inclusion.
We'd be delighted for diners at Rocksalt to take a few minutes to review us and share their dining experience with the Good Food Guide. It's free to do so and only takes a couple of minutes.
Leave a review
Find Us
4-5 Fishmarket, Folkestone, Kent CT19 6AA
Nearest Train Station: Folkestone Central
Get in Touch
General Enquiries
To Make a Reservation
Press & Media Enquiries